It is important to mention that the territory in Croatia is zoned and there are urbanized plots of land (meant for tourist, residential or commercial building) and non-urbanized plots of land (land of national parks, military plots, forests, most of agricultireal plots, etc). It is prohibited to construct apartments and houses in Croatia closer than 70 meters from the upper edge of the sea tide. As per current legislation every urbanized cadastrial unit has some building conditions which reflect the vision over total urbanization of some town of village by local municipality. Those condition determine the building spot in percentage to the area of the plot and maximum height of the building. In the majority of cases the possibilities of construction are up to 30-40% of the plot area (in very rare cases up to 100%) and do not exceed 3-4 floors. This sets certain limits to inverstor's appetites making it impossible to build giant skyscrapers like in Dubai. 
In order to start or even renovate building, first it is important to understand current location (planned) building conditions for the plot. They will determine max m2 and height of the building. If the building is within urbanized area, corresponds to the plan and is under 400 m2 a location permit or building permit are not necessary but a special decision on construction requirements has to be received. Same is applied to argicultural building under 600 m2. For those buildings no usage permit is now required. Those building may be put into operaation as per special decision upon the report of monitoring engineer.
However, the process still is far from being easy.  
First step is to receive fresh abstract from Land Registry (Ownership Certificate) to show the size of the plot (1 day – 20 kn).

Then it is important to get copy of Cadastry plan showing the exact ocation of the plot, it's potision towards to neighbouring plots, roads, etc. (1 day -about 110 kn)

Then it is necessary to make a project which corresponds to local planning conditions and local Croatian construction regulations. If the project is done by a foreign architect, it needs verification by Croatian one.

The project is submitted to local Municipality to get allowance of utilities and a bill to pay utilities connection fee (per m3 of the house). The country is divided into various zones which have different fee. It may vary from 50 kn to 150 kn per m3. Then this kommunalni doprinos should be paid.(3 weeks)

Payment of water contribution as per determined zones and per m3 of the building. 2(2

Confirmation of the Basic project. Project affirmations from fire department, sewage and water services, telephone network and sanitary inspection will be needed.
Currently, all information about buildings and structures is being processed in Croatia, which will soon be available on the website - https://ispu.mgipu.hr/
Visit also: www.doingbusiness.org/data/exploreeconomies/croatia/dealing-with-construction-permits
It will contain information on zoning, details of each plot, its location, buildings on it, permissions for its use and many other details. Currently running in test mode.
See below for a diagram of the procedure for obtaining a building permit: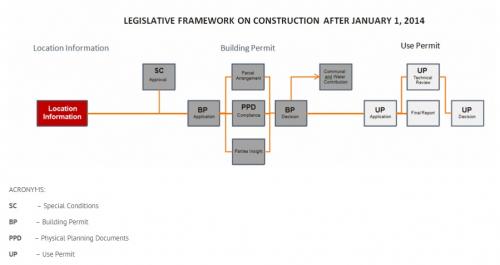 Following numerous requests of the investors we publish below the info on the amounts on Communal payment (Visina komunalnog doprinosa) which is paid by investor for connection to public utilities in order to get Building permit (amount is set in Kn per m3 and differs for residential and commercial premises).