Croatia is a country with rather low urbanization level in comparison to Spain, France and Italy. It is a place of peaceful countryside and preserved nature. This is a result of the state policy over the last 20 years aimed to avoid mass civil construction. Thanks to it the coastal line of Croatia is still not overbuilt due to severe limitations on height and size of the buildings. 
As usual cadastre unit has a plot of 300-500 m2 of which the building area is just 30-40% with maximum height of 3-4 floors allowed. This shows that the building planning on the coast implies construction of family houses of 150-300 m2 or small rental buildings with no more than 10-12 apartments. Most of the new residential developments in Croatian villages have 6-10 apartments with no elevator.

Typical Croatian apartments represent:
studio of 20-35 m2 (living room-kitchen and sleeping zone in one space with separate balcony and bathroom),
1-bedroom apartment of 35-60 m2 (living room with kitchen zone, separate bedroom, balcony or terrace and bathroom)

2-bedroom apartment of 45-85 m2 (living room with kitchen zone, 2 bedrooms, bathroom, terrace)

3-bedroom apartment of 70-120 m2 (living room with kitchen zone, 3 bedrooms, 2 bathrooms, terrace)
Most of the apartments are of 1 - 2 bedrooms. Three-bedroom apartments are almost not built. They are mostly luxury pent-houses. Standard new building has a parking lot in front of the house, some storages. Average price per m2 in a new development is 1600-2200 eur per m2.
Some buildings offer small swimming pools, garages but it is rather an exception. Those elements of infrastructure rise the price to 2200-3000 per m2. But the general trend is to increase the number of such buildings with higher quality of construction and materials used.
There are a few brand resort complexes which have apartments for sale on their territory and possess the whole infrastucture of a hotel – several swimming pools, bars, restaurants, sport facilities. Such complexes offer prices from 3.500 eur per m2 and higher. It should be taken into account that the maintenance fee in them is also rather high.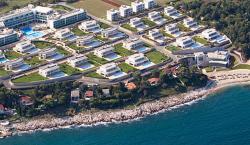 The apartments and flats in Croatia are normally offered for sale with final finishing (air-conditioners, plumbing installed, doors and windows mounted). Some developers offer kitchen corners already included in the price. So all you need to do is buy furniture you like and here the sellers may have some ready-made solutions or our agents can suggest some options for purchasing furniture. It will be enough to spend 8.000-10.000 eur to purchase middle-class furniture and household appliances for 2-bedroom apartment of 60 m2 in Croatia.
The cheapest flats can be found in soviet-type block houses built in 1960s-1970s. They now require renovation and thus additional investment. Such apartment may cost you 1.000-1.300 eur per m2. Age is now the main difference between a "flat" (stan) and "apartment" in Croatia. 
Price of self-standing house in Croatia within walking distance from the sea is from 150.000 eur. Average price of houses on the seashore is between 200.000 eur and 400.000 eur. Do not be surprised at their layout – 90% of the houses are not family cottages with swimming pools. They are built in 1970-2000 and divided into 3-6 apartments of which the owner occupies the biggest one (2-3 bedroom apartment) and rents out the other apartments (studios, 1 bedroom). That is one of themajor sources of income of seaside population in Croatia. Average apartment is rented out for 40-50 eur per day during high season so that the family of theowner can earn about  10.000-12.000 eur per season. These houses and apartments are generally of 3-star quality. 
If you see an apartment-house with 6-10 flats of higher quality, it is already considered a mini-hotel and a serious business. This type of property may cost 0,6-2,0 mio euro.  
New 2-3 bedroom cottage of modern construction with a pool is the most sought after property in Croatia and not so widely offered. There are lots of villages with new cottages in Istria but they are mostly located 3-8 km from the sea. The cottages located closer to the seaside cost from 320.000 - 350.000 eur.
If we speak of the sea front properties then the price of modern cottage (villa) with reasonable plot of land will start from 1,5 - 2,0 mio euro. These prices are still much lower than the prices for comparable villas in Italy or France. 
Rather popular trend recently became a renovation of old Istrian or Dalmatian houses. They have a special flavour of Mediterranean and some unique cosy atmosphere which attracts the buyers. These are narrow buildings of 3-4 floors built of massive stone and decorated by wood. There is something very stylish in those houses which make the investors purchase them in Porec, Rovinj, Vodice, Sibenik, Trogir and renovate them with care. 
A lot depends on location of the property. If we rank the regions of Croatian coast and take "10" as the most expensive mark, the regions will be distributed as follows: 
Umag 6

Porec 7

Rovinj 8

Pula 5

Opatija 10

Crikvenica 7

Krk 4

Zadar 5

Sibenik 7

Trogir 7

Split 8-9

Omis 7

Makarska 9

Dubrovnik 10

Brac 6 
Apartment of the same quality may cost 2.000 eur/m2 in the area of Pula and 5.000 eur/m2 in Opatija. Just because one hundred years before Austrian Emperor chose Opatija for his Adriatic sea residence. So there are certain traditions which describe some locations as very prestigious and luxury and other locations as less advantageous. That it not determined by excellent infrastructure, fantastic beaches or other weather bonuses, it is just a historical tradition. It still can be reversed if several luxury 5 star hotels appear in this or that part of Croatia. That automatically upgrades prestige of the area to the upper standard.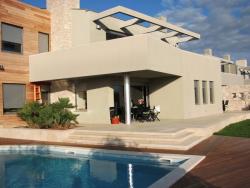 A few words on utilities in Croatia. All the areas have central electricity and water supply, some of the areas still have central sewer pipelines under construction and are using septic tanks. Central gas and central heating is available in big towns and cities like Pula, Rijeka, Split only. In other destinations gas is available in baloons or is held in gas-holders for heating purposes.
Winters are warm in Croatia (+5C+10C), so most people just use air-condition switched on heating or electrical heaters. Solar energy has become quite popular and every third house in Croatia is using it.
The crisis has hit real estate market of Croatia and since 2009 the prices are falling 3-4% per year. There was a trend of speedy drop of prices for real estate by foreign owners in 2010-2011 when the British, the Irish and other sellers were selling 20-30% below the market price still gaining 200-500% as they were purchasing right after the war in 1996-1999.



In 2014 the market has reached stage of stagnation which is supported by contradictory expectations by the Buyers and the Sellers. As Croatia entered EU on July 1

st

2013 the sellers were expecting 10% rise in price same way it happened in other EU countries after accession. We were all witnessing rise in price in Bulgaria or Baltic states after they entered EU. However potential buyers have different opinion as they compare properties in Croatia to similar objects in Spain, Portugal, Greece heavily attacked by the crisis and offering very attractive prices and buying conditions. The end of 2013 did not bring any considerable revitalization to real estate market in Croatia and it can be said to be a buyers' market. The Buyers are welcome to bargain and get discount off price.